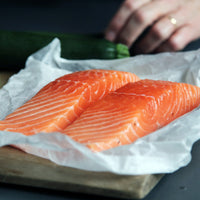 Our Salmon is farmed in the pure, open waters of the Faroe Islands. Not a single antibiotic or hormone is used in their upbringing, ensuring a clean and healthy environment. This product is never frozen and is delivered at its freshest state.

Each purchase you make translates to one pound of our finest salmon.

Source: Faroe Island, Ocean-Raised

Worth the extra cost
The salmon fillets from Svenfish are so far outside the league of anything sold in the supermarkets (even the high end supermarkets), it's not even a comparison. The price per pound has crept upwards and it is not something I would buy on a weekly basis, but this salmon is of such amazing quality I don't know if I can ever go back to buying it anywhere else. It's so good and so delicious you can't even mess it up by overcooking it. Amazing.
Freshest fish anywhere
This salmon was melt in your mouth delicious. The customer service is beyond wonderful!
Superb salmon
I've never had better salmon. In the past, I always bought salmon fresh from Whole Foods, but it can't compare to this that's truly fresh from the docks. Before, we ate fish because we liked it, and it's good for us. Now we eat it because we crave it and count the days to the Wednesday delivery.
Beautiful, super fatty salmon.
Super high quality salmon that tasted great