Vancouver Island Sea Salt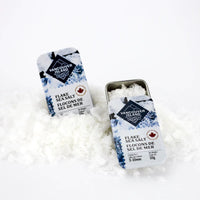 Vancouver Island Sea Salt
Beautiful, delicate, with a nice crunch and balanced saltiness, use this all-natural flake salt for cooking or finishing
Available in 75g jars or 10g tins
"Here on Vancouver Island we're pretty serious about making sea salt. Our passion is to take the cold, clear water of the Canadian Pacific and slowly transform it into crystals of exceptional purity. By hand-harvesting sea salt in small batches, we elevate the natural properties of the salt to craft a flavor and texture that brings out the very best in your food. People often ask us what makes our sea salt different from others and this is what we tell them:
1) Our sea salt comes from some of the cleanest waters anywhere, fed by glaciers and teeming with shellfish that act as natural filters for our 'merroir'
2) We harvest in small batches. This allows us to filter all our sea water to remove any unwanted impurities including microplastics now commonly found in traditionally harvested sea salt.
3) Small batch production also allows us to use techniques that result in the best possible flavor and texture in your salt - less bitter and a cleaner briney finish
4) We harvest our sea salt with utmost respect for the environment. We pay our employees fair wages. You know exactly where our salt comes from and that it's made with love by people who are truly passionate about saltmaking!
#saltlove from your sea salt harvesters here in The Great White North!"
-Vancouver Island Sea Salt