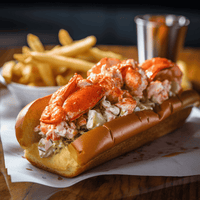 Savor the freshness of the ocean with Svenfish's Wild-Caught Fresh Lobster Meat.

Each order contains a pound of pre-cooked tail, claw, and knuckle meat, perfect for culinary creations. Please note, while we strive to provide the best mix, the type of meat may vary due to seasonal availability. We promise to deliver the finest quality seafood right to your doorstep. Enjoy the Svenfish difference!
E.P.
Simply Delicious and pleasingly sweet ! Thank you for the freshness of your products.
Lobster Meat
Lobster meat is so fresh, high quality and delicious....perfect for our lazy man's lobster pie! And the free delivery right to our door is so convenient and an additional real incentive to order from Svenfish.
Lobster
I have bought lobster meat at a Worcester fish market before and ask for the lobster meat by lobsters, that is one body, two claws and four knuckles. At Svenfish they pick the lobster meat for you so you may receive a different selection. However, the lobster they deliver is very good and makes ample lobster rolls and is all lobster meat with an occasional piece of shell. Buy and enjoy.
Ed S