Swordfish - Wild Line-Caught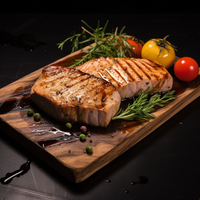 Swordfish - Wild Line-Caught
Indulge in our fresh, locally-sourced swordfish. Delivered boneless with skin-on, every detail ensures the finest quality for your culinary delights. Each unit is approximately a pound of this oceanic gem, rich in flavor and packed with nutrients.

Source: Wild-Caught, Local
Swordfish treat!!
Having delicious, fresh, swordfish delivered to our door guarantees that we eat healthy, and beautiful meals! Thank you!!!
Excellent Swordfish
Our order arrived on schedule, and we cooked and served it that night. It was fresh and delicious!
Tender and delicious
Can't beat this fresh swordfish. Guests swoon over it.
Fresh fish!
Always fresher than the supermarket! Just what I wanted.
Absolutely perfect!
The freshest, tastiest swordfish ever! We'll be back!