Shucked Oysters - in Brine/Liquid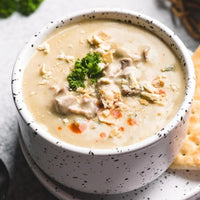 Shucked Oysters - in Brine/Liquid
These oysters are sold in their brining liquid, shucked, out of the shell and ready to use in your favorite oyster recipe.
These are not shucked oysters "on the half shell". They are designed for using in oyster stew, frying or for use in oyster stuffing.
One unit purchased is one pint (16 fluid ounces) of shucked oysters in brine/liquid.
Allergens: Contains Shellfish