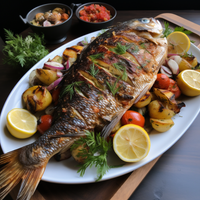 Discover the fresh, tantalizing taste of the sea with our Wild-Caught Whole Snapper. Sourced from sustainable fisheries, our snappers weigh between 1 to 2 pounds each.

You will receive either two smaller fish or one larger fish, ensuring ample servings for your culinary delight. We offer varieties such as Lane, Silk, Line, and Yellow Snapper.

The price is based on a total weight of 1-2 pounds, not per pound, delivering you exceptional value for premium seafood.

Enjoy these versatile fish grilled, baked, or steamed, and savor the bounty of the ocean on your plate.