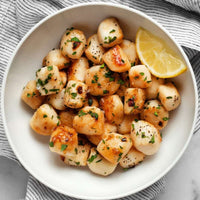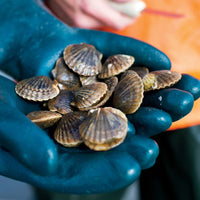 These little bite-sized, flavor nuggets are smaller and much more sweet and tender than our larger scallops. Because of their size they are great in stews, casseroles, and pastas. For something different, cook in butter and herbs and lap up with crusty bread. These are "dry" scallops.
Source: Ocean-Farmed, Peru. 
One unit purchased is equal to one pound of raw scallops.
"Dry" is the seafood industry term for natural scallops, which have not been treated with phosphates. Natural scallops have a slightly tan, or "vanilla" color.
Bay scallops
Perfectly tender and sweet! Broiled scallop casserole… the best ever! You can taste the freshness of all Svenfish products. My family and I are beyond delighted that we found you!